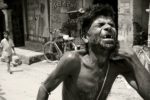 I wanted to post this short audio track that I created for Viralnet's 2008 online project called The Lament Project. Here's a short blurb on the idea of the project:
The Lament Project' grew from a desire to produce an online work that responds to the personal anxiety and social crisis in our contemporary global culture. We thought that the best way Viralnet.net could cut through the lulling effect of corporate media's packaging of suffering and conflict, would be in a personal and visceral way, using sound. The lament is one of the world's oldest musical and poetic forms for expressing sorrow and grief. It is found in both the east and the west; in classical traditions as well as folk traditions. It has evolved over the centuries informing new genres along the way, like the blues. It is a sound that comes from a place deep inside the soul of the individual and reflects a larger collective suffering. It is a universal sound. Even though there are many traditional laments to draw from, Viralnet.net encourages the artists to invent new and personal interpretations of the form and explore the full range of possibilities, spanning the humorous to the serious. Except for the one-minute length requirement, there are no pre-conditions or rules that the artists need to follow in creating their laments.
The Recording
For my lament I asked vocalist Jewl Mosteller to improvise in the recording studio. I selected some of the performance and created a 1 minute piece.
Listen to Lament [1:05 ] [ 320 kbps mp3 ]